Rita Maria Ferreira da Fonseca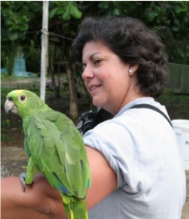 Institute of Earth Sciences – University of Évora Pole
Email: rfonseca@uevora.pt
PhD in Geology, University of Évora (Portugal)
Coordinator of the Laboratory of Environmental Biogeochemistry, University of Évora
Member of the Working Group on Marine Sediments in Relation to Pollution (WGMS), International Council for the Exploration of the Sea (ICES).
Member of the Commission of Masters of Science in Science and Technology of Earth, Atmosphere and Space – Specialization in Rehabilitation of Degraded Environments, University of Évora.
Current position: Associate Professor
Scientific Interests: Biogeochemical characterization of degraded areas (by erosion and by contamination from mining and ore processing activities) and remediation proposals.
Chemical and mineralogical characteristics of sediments from dam reservoirs. Proposals of rehabilitation and reuse of sediments.
Geochemistry of tropical lakes.
Analytical Biogeochemistry (elemental analysis, inductively coupled plasma optical emission spectrometry)
Curriculum Vitae (online):
Orcid: 0000-0002-6389-2822
Scopus: 18634176400
FCT: Chave pública: J013486B7E6