Joana Torres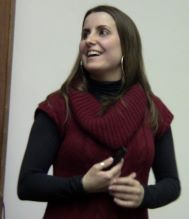 Institute of Earth Sciences – University of Porto Pole
Email: joana.torres@fc.up.pt; joanatorres@iesfafe.pt
M.Sc. in Biology and Geology Teacher Education for Middle and Secondary
Schools, University of Porto, Portugal, 2011.
Ph.D. in Science Teaching and Dissemination, Faculty of Sciences, University
of Porto, Portugal, 2017.
Current position: Professor, Higher School of Education of Fafe (ESEF), Institute of Higher Studies of Fafe (IESF) | Invited Assistant Professor, Department of Earth Sciences, Faculty of Sciences and Technology, University of Coimbra
Scientific Interests:
Science Education, Nature of Science, Scientific Models, History of Science,
Science Teaching Methods, Environmental Education and Health Education.
Curriculum Vitae (online):
Orcid ID
ResearcherID: K-8208-2014
Scopus Author ID: 55532848300
CienciaVitae ID: 981B-065F-186D