Rui Salgado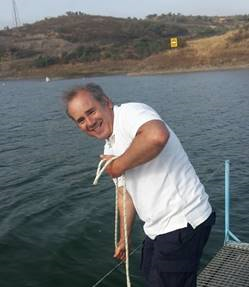 Coordinator of the the Évora Pole of the Institute of Earth Sciences
Email: rsal@uevora.pt
Ph.D. in Physics, University of Évora, Portugal, 2006.
Associate Professor with Habilitation, Physics Department, School of Sciences and Technology, University of Évora, since 2021.
Scientific coordinator of the ALEX, ALOP, CILIFO-UE, FIREPOCTEP-UE and Pyroc:pt projects and field campaigns.
Member of Meso-NH Steering Committee.
Member of the direction (2010-2012) and president of the General Assembly (since 2012) of the Portuguese Association of Meteorology and Geophysics (APMG).
Scientific Interests: Atmospheric modelling; Atmospheric boundary layer; surface-atmosphere interactions; fire weather; meteorological observations.
Curriculum Vitae (online):   
https://www.mdpi.com/journal/atmosphere/special_issues/interaction