Maria dos Anjos Ribeiro, Group Lithosphere Dynamics (ICT)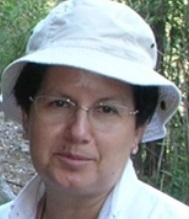 Associate Professor, Department of Geosciences, Environment and Spatial Planning, Faculty of Science, University of Porto.
Institute of Earth Sciences (ICT),
University of Porto
Rua do Campo Alegre, 687, 4163-007, Porto
E-mail: maribeir@fc.up.pt
Maria Anjos Ribeiro is Associate Professor at the University of Porto, Portugal.
She holds a degree in Geology from the University of Coimbra (1982) and a PhD in Geology from University of Porto (1999) on Lithogeochemistry and Petrography of Metasedimentary Rocks.
She was coordinator of the project LITHOSTRUMODEL (Variscan Evolution of an Iberian Crustal Segment: Lithogeochemical and Strutural Modelling). She was part of theresearch team of 12 national and international research projects. She supervised 4 PhD and 21 MSc. She is co-author of 7 book chapters, 9 papers ISI/Scopus, 35 papers in national scientific journals with peer-review, 11 proceedings ISI, 76 papers in national and international conferences.
She was member of the Scientific Council of FCUP (2010-2014) and currently (2018 -…) She was a member of FCUP's Scientific Council (2010-2014) and currently (2018 -…) is member of the Pedagogical Council of FCUP. She was Director of the Master's Degree in Geomaterials and Geological Resources (2012-2017) and currently Director of the Master's Degree in Geology (2017 -…).
Her scientific activity involves: Geological mapping and regional geology; Petrology and lithogeochemistry; Metamorphic and structural variscan evolution.
Maria dos Anjos Ribeiro é Professora Associada na Universidade do Porto.
É licenciada em Geologia pela Universidade de Coimbra (1982) e doutorada em Geologia pela Universidade do Porto (1999) com uma tese sobre litogeoquímica e petrografia de rochas metassedimentares.
Foi coordenadora do projeto LITHOSTRUMODEL (Evolução Varisca de um Segmento Crustal Ibérico: Lithogeochemical and Strutural Modeling). Integrou a equipa de investigação de 12 projetos de nacionais e internacionais. Orientou e coorinetou 4 teses de doutoramento e 21 dissertações de mestrado. É coautora de 7 capítulos de livros, 9 artigos ISI / Scopus, 35 artigos em revistas científicas nacionais com revisão por pares, 11 trabalhos ISI, 76 artigos em conferências nacionais e internacionais.
Foi membro do Conselho Científico da FCUP (2010-2014) e é atualmente (2018 -…) membro do Conselho Pedagógico da FCUP (2018-….).
Foi Diretora do Mestrado em Geomateriais e Recursos Geológicos (2012-2017) e atualmente é Diretora do Mestrado em Geologia (2017 -…).
A sua atividade científica envolve: Cartogarfia geológica e geologia regional; Petrologia e litogeoquímica; Evolução metamórfica e estrutural varisca.
Curriculum Vitae (online):
Ciencia ID: 7A1F-BF81-298E