Helena Couto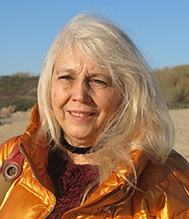 Institute of Earth Sciences – University of Porto Pole
Email: hcouto@fc.up.pt
Ph.D.: Ph.D. in Geology, Faculty of Sciences of the University of Porto, Portugal, 1994.
Current position: Associate Professor
Member of the Program Follow-up Committee of the Master in Geology.
Member of the International Geological Correlation Project a 653 (2016- 2020) "The onset of the Great Ordovician Biodiversification Event" do IGCP (International Geoscience Programme) (co-lead by Thomas Servais, David arper, Olga T. Obut, Cristian Rasmussen, Alycia Stigall and Zhang Yuandong). IUGS/UNESCO International Geoscience Programme.
Scientific Interests: Gold and antimony mineralizations, Palaeozoic stratigraphy and palaeontology
Curriculum Vitae (online):