Rui Jorge Oliveira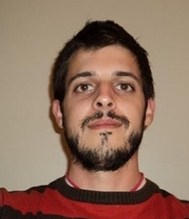 PhD
Institute of Earth Sciences
University of Évora
Rua Romão Ramalho, 59 – CLAV 088 – Apartado 94 – 7002-554 Évora – Portugal
E-mail: ruio@uevora.pt
Rui Jorge Oliveira holds a degree in Geological Engineering (University of Aveiro (UA), 2010) and a master degree in Geological Engineering, in the field of Geological Resources (UA, 2014). Currently, is a Ph.D. Candidate of the Doctoral Program in Earth and Space Sciences (Specialty: Geophysics) at the University de Évora (UÉ). Before, he was an undergraduate student in Physical Engineering at UA. He began his scientific research in 2013 as a research fellow at the former Geophysics Centre of Évora, in Applied Geophysics in the detection of seismic faults. As part of the Ph.D. research and as a member of the Institute of Earth Sciences (ICT) since its foundation in 2015, he has been dedicated to the development of effective methodologies for geophysical prospection of the nearby surface in the detection of archaeological structures and ore deposits. His interests also focus on numerical modeling of geophysical data and digital signal processing techniques. As a student, between 2006 and 2008 at UA, he had academic positions as a representative of the student body at the Pedagogical Commission of the Physics Engineering undergraduate course, student member of the Assembly of the Department of Physics, student member of the Pedagogical Council and representative of the Academic Association in Assembly of the UA. In 2016, he was invited to integrate the Geology panel of the External Evaluation Committees of the Portuguese Agency for Assessment and Accreditation of Higher Education.
Current research and interests: Applied geophysics; Near surface geophysics; Development of effective methodologies of geophysical prospection; Digital signal processing; Numerical modeling.
Rui Jorge Oliveira é licenciado em Engenharia Geológica (Universidade de Aveiro (UA), 2010) e mestre em Engenharia Geológica, na área de Recursos Geológicos (UA, 2014). Atualmente é aluno finalista do Programa de Doutoramento em Ciências da Terra e do Espaço (Especialidade: Geofísica) na Universidade de Évora (UÉ). Antes, foi estudante da licenciatura em Engenharia Física na UA. Iniciou a sua investigação científica em 2013 como investigador no antigo Centro de Geofísica de Évora, na área da Geofísica Aplicada à deteção de falhas sísmicas. Como parte da sua pesquisa do doutoramento e como membro do Instituto de Ciências da Terra (ICT) desde a sua fundação em 2015, tem-se dedicado ao desenvolvimento de metodologias eficazes para prospeção geofísica da superfície próxima para deteção de estruturas arqueológicas e depósitos minerais. Os seus interesses incidem também na modelação numérica de dados geofísicos e em técnicas de processamento de sinal digital. Como estudante, entre 2006 e 2008, na UA, desempenhou cargos académicos como representante do corpo discente na Comissão Pedagógica de Curso de licenciatura em Engenharia Física, membro discente da Assembleia do Departamento de Física, membro discente do Conselho Pedagógico da Universidade de Aveiro e representante da Associação Académica na Assembleia da Universidade de Aveiro. Em 2016, foi convidado para integrar o painel de Geologia da Comissão de Avaliação Externa da Agência de Avaliação e Acreditação do Ensino Superior.
Investigação e interesses: Geofísica aplicada; Geofísica de superfície próxima; Desenvolvimento de metodologias eficazes de prospeção geofísica; Processamento de sinal digital; Modelação numérica.
Curriculum Vitae (online):