Noel Moreira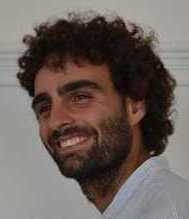 Institute of Earth Sciences (ICT), Univiversity of Évora
Rua Romão Ramalho, 59 – Colégio Luís António Verney – 7002-671 Évora
E-mail: nafm@uevora.pt | geo.noel.87@gmail.com 
PT
Noel Moreira, natural de Torres Vedras (Portugal), licenciou-se em Geologia pela Faculdade de Ciências da Universidade de Lisboa [2009], realizando na Universidade de Évora a formação pós-graduada (MsC em Ciências da Terra, da Atmosfera e do Espaço [2012] e PhD em Ciências da Terra e do Espaço [2017], ambos com Especialidade em Processos Geológicos).
Iniciou o seu percurso profissional em 2009, no âmbito do projeto "ShistResource" e posteriormente como Comunicador de Ciência no Centro Ciência Viva de Estremoz, ligação contactual que cessou em 2012, embora a ligação à divulgação científica continue. Foi bolseiro do projeto "ZOM-3D; Modelos Metalogénicos 3D da Zona de Ossa Morena" [2018-2019], sediado na Universidade de Évora e professor convidado do Departamento de Ciências da Terra da Universidade do Minho [anos letivos 2019/20 e 2020/21]. É atualmente membro integrado do Instituto de Ciências das Terra e desde 2021 investigador do Instituto de Investigação e Formação Avançada da Universidade de Évora.
No seu percurso destaca-se a publicação de dezenas de artigos, capítulos em livros e resumos em conferências nacionais e internacionais; a organização de conferências científicas de carácter nacional (Congresso Jovens Investigadores em Geociências) e internacional (Congresso Ibérico de Geoquímica); e a distinção com três prémios (Bolsa Fundação Amadeu Dias/Universidade de Lisboa [2008], Prémio Estímulo à Investigação da Fundação Calouste Gulbenkian [2011] e Prémio Jovem Investigador – Fundação Millenium BCP [2018]).
Investigação e interesses: Geologia Estrutural e Tectónica, Geodinâmica, Geologia Regional, Cartografia geológica, Geoquímica, Estratigrafia, Divulgação científica
EN
Noel Moreira, from Torres Vedras (Portugal), is graduated in Geology (Faculty of Sciences of the University of Lisbon [2009]), performing the post-graduate studies in the University of Évora (Master's Degree in Earth, Atmosphere and Space Sciences [2012] and PhD in Earth and Space Sciences [2017], both with Geological Processes Specialization).
He starts as consultant in the "ShistResource" project [2009] and between 2009 and 2012 works as Science Communicator at the Estremoz Science Center, although the collaboration in divulgation activities remains active to the present day. Between 2018 and 2019, he won a project grant ("ZOM-3D; 3D Metalogenic Models of the Ossa-Morena Zone"; ref: ALT20-03-0145-FEDER-000028), headquartered at the University of Évora and during 2019/20 e 2020/21 academic years, he was invited professor in Scholl of Sciences of University of Minho. Actually is integrated researcher in Earth Sciences institute and, since 2021, researcher of Investigação e Formação Avançada da Universidade de Évora.
Throughout his carrier he published dozens of papers, chapters in national and international books and abstracts in national and international conferences; he has been part of the organization committee of several national (Young Geoscience Researchers Congress) and international (Iberian Congress of Geochemistry) meetings; and he has been appraised with three young researchers awards (Amadeu Dias Foundation / University of Lisbon Scholarship [2008], Incentive Research Program from CalousteGulbenkian Foundation [2011] and the Millenium-BCP Foundation Young Researcher Award [2018]).
Present research and interests: Structural Geology and Tectonics, Geodynamics, Regional Geology, Geological Mapping, Geochemistry, Stratigraphy, and Science communication.
Curriculum Vitae (online):