Mourad Bezzeghoud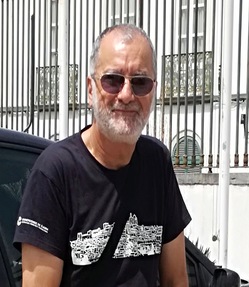 Group Coordinator (ICT)
School of Sciences and Technology, Dept. of Physics
Institute of Earth Sciences (ICT),
Univiversity of Évora
Rua Romão Ramalho, 59 – Colégio Luís António Verney – 7002-554 Évora
E-mail: mourad@uevora.pt 
Mourad Bezzeghoud is born in Oran (Algeria) in 1955. Engineer in Applied Geophysics by the Institute National des Hydrocarbures et de la Chimie (INHC), Boumerdes (1981, Algeria). Master (DEA) in Internal Geophysics and Geochemistry, by University Denis Diderot – Paris VII/Institut de Physique du Globe de Paris (1982, France). Doctor in Geophysics by the Institut de Physique du Globe de Paris, University Denis Diderot (France, 1987). In 2011, he obtains the "habilitation" ("Agregação") in Earth and Space Science by the University of Évora (Portugal). He was also elected President of the Physics Department in 2006 and 2007, and also elected in January of 2009 and 2013 member in the Scientific Council of the School of the Science and Technology of the University of Évora. He has assumed academic and scientific responsibilities in university bodies and at national boards.Since March 2009, he is Director of doctoral program in Earth and Space Sciences of the U. of Évora and delegate of the U. of Évora in the Geophysics National Network. In January 2013, he was elected Director of the School of Science and Technology of the University of Évora.
Present research and interests: Earthquake source seismology and seismic risk; 3D structure velocity models; Strong ground motion modelling; Seismotectonics and Geodynamic; Instrumental seismology and seismic networks.
Mourad Bezzeghoud é licenciado em Eng. Geofísica, possui um mestrado (DEA) em Geofísica interna e Geoquímica e um doutoramento na área da Sismologia (U. Denis Diderot, Paris, 1987). Realizou a agregação em Ciências da Terra e do Espaço (2011) na U. de Évora. Foi docente na U. Pierre et Marie Curie (Paris, 1986-88), fundou e liderou o Depto. de Sismologia do "Centre en Astronomie, Astrophysique et Géophysique" de Argel (1988-94). Foi professor convidado na "École Nationale des Mines de Paris" (1985), na U. Complutense de Madrid (1996 e 2010) e na "École Normale Supérieure de Paris" (2011). É professor no Departamento de Física (desde 1998) e investigador no Centro de Geofísica de Évora (desde 1997) da Universidade de Évora, onde desempenhou e continua a desempenhar vários cargos de coordenação e de direção: duas vezes Diretor do Departamento de Física (DFIS, 2006 e 2007), duas vezes Vice-Diretor do DFIS (2003 e 2011); Vice-Diretor do CGE/UÉ (desde 2003); Vice-Presidente do Conselho Diretivo da Área Departamental de Ciências Exatas da UÉ (2006); Coordenador de linha de investigação do CGE/UÉ (desde 2003); Diretor do Programa Doutoral em Ciências da Terra e do Espaço e por inerência membro do IIFA (desde 2009). Desde janeiro de 2013, ocupa o cargo de Director da Escola de Ciências e Tecnologia da Universidade de Évora. Integra vários projetos de investigação nacionais e internacionais na área da Geofísica Interna. Em complemento desenvolve trabalhos de divulgação científica com professores e estudantes do Ensino Secundário financiados pela Agencia Nacional Ciência Viva.
Investigação e interesses: Fonte sísmica e risco sísmico; Modelos de velocidade 3D; Movimentos fortes; Sismotectonica e Geodinâmica; Sismologia instrumental e redes sísmicas.
Curriculum Vitae (online):