Mouhaydine Tlemcani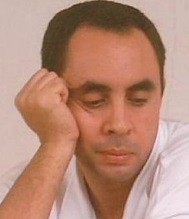 School of Sciences and Technology, Dept. of Physics
Institute of Earth Sciences (ICT),
Univiversity of Évora
Rua Romão Ramalho, 59 – Colégio Luís António Verney – 7002-554 Évora
E-mail: tlem@uevora.pt 
Mouhaydine Tlemcani was born in Azrou (Morocco) in 1966. Engineer in Electrical Engineering (1992, Brattislava/Slovakia). In 2007 he obtained his PhD from the University of Evora in Electrical Engineering. Since April 2009, he is Director of Bachelor program in Mechatronics Engineering of the U. of Évora.
Present research and interests: Signal Processing; Smart sensors; Photovoltaic systems, Instrumental seismology and seismic networks.
Mouhaydine Tlemçani Nasceu em Azrou (Marrocos) em 1966. Engenheiro em Engenharia Eletrotécnica (1992, Bratislava / Eslováquia). Em 2007 obteve o seu doutoramento na Universidade de Évora em Engenharia Eletrotécnica. Desde abril de 2009, é diretor do curso de Licenciatura em Engenharia Mecatrônica da U. de Évora.
Investigação e interesses: Processamento do sinal; Sensores inteligentes; Sistemas Fotovoltaicos; Instrumentação Sísmica e Redes Sísmicas.
Curriculum Vitae (online):