Marco Manso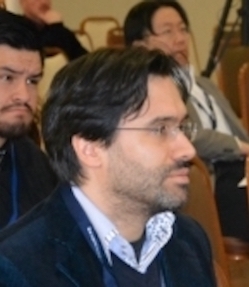 Researcher (ICT)
School of Sciences and Technology, Dept. of Physics
Institute of Earth Sciences (ICT),
University of Évora
Rua Romão Ramalho, 59 – Colégio Luís António Verney – 7002-554 Évora
E-mail: marco.manso@gmail.com

MARCO MANSO Doutorando em Ciências da Terra e do Espaço com especialização em Geofísica. Colaborador do ICT, participou no projecto SSN-Alentejo (financiado pela FCT ALT20-03-0145-FEDER-031260) que explora a aplicação de novos conceitos e tecnologias em sismologia através da implementação de redes de monitorização de sensores sísmicos ligados em rede e de elevada densidade.  Durante o ano de 2019, o colaborador desenvolveu vários protótipos de sistemas de aquisição baseados em acelerómetros com a capacidade de ligar Internet e enviar dados em tempo-real. Está planeado para 2020 e 2021 a instalação de 60 sensores na região a operar em contínuo por vários meses. 
Interesses:  Sismologia; Sistemas de aquisição em tempo-real; Sistemas centrados em rede; Sistemas de comando e controlo.
CIENCIA-ID:  8411-CB95-CA12
ORCID:  0000-0003-0953-049X
Marco Manso is a researcher at the ICT, entrepreneur and experienced in launching startups into market.  He has more than 15 years of experience working in the Security and Environmental Monitoring private market, including more than 10 years in Executive and R&D Positions.  He has coordination experience of Horizon 2020 and national R&D projects, involved in the generation of more than 100M€ in grants and funding to support research and innovation activities.
Marco Manso was born in Castelo Branco (Portugal).  He is Graduated in Electronics and Computer Sciences by the Technical University of Lisbon (1998), has a MSc. in Information Warfare/Competitive Intelligence by the Portuguese Military Academy (2013) and is a PhD Student in Earth and Space Sciences at the University of Évora.  He started his professional career in 1999, working in the development of critical systems for Defence industries.
He authored and contributed to several papers and book chapters on Command and Control, ELICIT Experimentation, Social Media, Seismic Sensor Networks, Internet-of-Things and Next Generation Emergency Services.
Present research and interests: His current interests are in research and development of big data solutions supporting high density sensor networks (including the field of seismology and seismic risk) providing high-throughput and real-time data. 
Curriculum Vitae (online):