João Alberto Cruz Vieira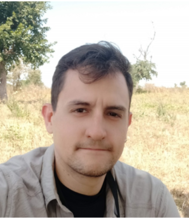 PhD Student
Institute of Earth Sciences
University of Évora
Rua Romão Ramalho, 59 – CLAV 061 – 7002-554 Évora – Portugal
E-mail: j.albertocv@hotmail.com
João Alberto Cruz Vieira holds a bachelor's degree in Geophysics (Universidade de Brasília – UnB, 2013) and a master's degree in applied Geophysics (UnB, 2016). Currently, studies a Ph.D. program at Earth and Space Sciences (Speciality: Geophysics) at Universidade de Évora (UÉ). Has 5 years of experience at seismic signal analysis while worked at Seismological Observatory of University of Brasília (ObSis/UnB). Is one of the founders of Phygeo Jr, a junior enterprise for graduate students of Geosciences Institute (IGD/UnB). Acted at this company as CFO and project manager for 3 years. Represented the post-graduation students on committee at IGD/UnB while worked at master's degree.
As field geophysicist, has experience at seismological stations installation, magnetic survey (ground and marine), gravimetry (ground and marine), vertical electric sounding, electro resistivity and IP (for electric methods), ground EM survey, geodesy and topography, GPR, MT and marine acoustic methods. Act as field manager and planner at GSM Geophysics since 2016 under short period contracts and has run projects around South America and Africa.
Software experienced in SAC, GMT, Geotool, SeisComp3, ArcGIS, Oasis Montaj
Geosoft, Res2Dinv, Res2Dmod, ProSYSII, Vista3D, Omni3D, GlobalMapper among
others. Coding experience at C, C++, Pascal, Matlab and Python.
Present research and interests: The present research theme, as part of Ph.D. program, is seismological hazard evaluation at Lower Tagus Valley, under supervision of Prof. Dr. José Borges and Prof. Dr. Bento Caldeira. For this experiment, magnetic and HVSR seismic data are being collected, besides secondary data provided by oil industry. Although, minding that many years of working experience, oil/gas and mineral applied geophysics are points of very interest.
Mestre em Geofísica Aplicada (2016) e Bacharel em Geofísica (2013) formado pela Universidade de Brasília. Trabalho Final de Graduação com estudo por refração sísmica na Província Geológica de Borborema. Dissertação de mestrado entitulado "Modelo Geológico e Estrutural da Zona Externa da Faixa Brasília por Meio de Integração de Dados Geofísicos". Atualmente, é aluno de doutoramento em Ciências da Terra e do Espaço (especialidade: Geofísica) na Universidade de Évora. De 2009 a 2013 foi analista de sinais sísmicos do Observatório Sismológico da Universidade de Brasília. É um dos fundadores da empresa júnior de geofísica da Universidade de Brasília chamada "PhyGeoJr". Atuou como o diretor financeiro desta instituição desde 2010 a 2012. Representante dos discentes do Programa de Pós Graduação em Geociências Aplicadas em 2014 e 2015. Tem experiência de trabalho
de campo em sismologia, magnetometria terrestre e marinha, gravimetria terrestre e marinha, MT, sondagem elétrica vertical, caminhamento eletrorresistivo e polarização induzida, eletromagnetismo, geodésia, GPR e métodos acústicos marinhos. Tem experiência nos softwares SAC, GMT, Geotool, SeisComp3, ArcGIS, Geosoft, Res2dinvr, Res2dmod, ProsysII, Vista3D & Omni3D além de programação em C e C++. 
Investigação e interesses: O tema de estudo abordado no programa de doutoramento trata da avaliação da perigosidade sísmica no Vale Inferior do Tejo, sob orientação do Prof. Dr. José Borges e Prof. Dr. Bento Caldeira. Para esta investigação, dados magnéticos e sísmica (método HVSR) estão sendo levantados e complementarão dados fornecidos pela indústria do petróleo. Entretanto, devido à atuação no mercado de trabalho, são de muito interesse outros métodos e aplicações da geofísica em exploração mineral e de óleo e gás.
Curriculum Vitae online: