Cristina Gama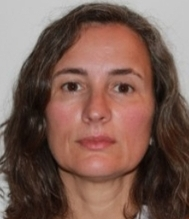 School of Sciences and Technology, Dept. of Geosciences
Institute of Earth Sciences (ICT),
University of Évora
Rua Romão Ramalho, 59 – Colégio Luís António Verney – 7002-554 Évora
E-mail: cgama@uevora.pt 
Cristina Gama is since 1993 teacher of the Department of Geosciences of the Évora University, and currently is Associate Professor with Habilitaion in the School of Sciences of Technology. The 5 years BSc in Biology and Geology (1992) was obtained at the University of Évora and the MSc in External Geodynamics (1997) at the Faculty of Sciences of the University of Lisbon. Her PhD (2005) was obtained at the University of Évora in the scientific area of Geology. From 2004 to 2014 was research member at the Centre of Geophysics of Évora (CGE) and since then belongs to the research team of the Institute of Earth Sciences (ICT).
Research and interests: Sedimentology, Stratigraphy, Analysis of sedimentary provenance, Geochronology, Coastal Dynamics, Natural hazards and Spatial Planning.
Cristina Gama é desde 1993 docente do Departamento de Geociências da Escola de Tecnologia da Universidade de Évora, sendo actualmente Professora Associada com Agregação. Obteve a licenciatura Biologia e Geologia (1992), 5 anos, na Universidade de Évora e o Mestrado em Geodinâmica Externa (1997) pela Faculdade de Ciências da Universidade de Lisboa. O seu Doutoramento (2005) foi obtido na Universidade de Évora na área científica da Geologia. Foi investigadora do Centro de Geofísica de Évora desde 2004 a 2014 e, é desde 2014 membro integrado doutorado do Instituto de Ciências da Terra (ICT).
Investigação e interesses: Sedimentologia, Estratigrafia, Análise de Proveniência Sedimentar, Geocronologia, Dinâmica Costeira, Riscos Naturais e Ordenamento.
Curriculum Vitae online:
SCOPUS Author ID: 10939191100