António Antunes Martins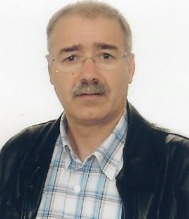 School of Sciences and Technology, Dept. of Geosciences
Institute of Earth Sciences (ICT),
Univiversity of Évora
Rua Romão Ramalho, 59 – Colégio Luís António Verney – 7002-554 Évora
E-mail: aam@uevora.pt 
António Antunes Martins is born in Cambas (Oleiros) in 1956. Degree in Geography by the University of Coimbra (1981). Doctor in Physical Geography by the University of Évora (2000). He has assumed academic and scientific responsibilities in university of Évora bodies. Since March 2015, he is Director of the Geography Course of the University of Évora.
Present research and interests: Geomorphology with especial relevance to fluvial Geomorphology, Morphotectonics, Active tectonic, Quaternary environments and Geochronology.  
António Antunes Martins é licenciado em Geografia, possui um doutoramento em Geografia Física pela Universidade de Évora (2000). É professor Auxiliar com nomeação definitiva do Departamento de Geociências da Universidade de Évora (desde 2005) e investigador no Centro de Geofísica de Évora (desde 2007). Participou em oito projectos de Investigação Científica Financiados pela FCT. Foi investigador Responsável do Projecto POCTI/CTE-GEX/58120/2004 "Terraços Fluviais: referências para determinar a incisão fluvial e o levantamento tectónico" financiado pela Fundação para a Ciência e a Tecnologia. Realizou um estágio de 6 meses e dois estágios de três meses no Nordic Laboratory for the Luminescence Dating, Risø, DTU (Dinamarca), onde obteve formação em datações por luminescência opticamente estimulada (OSL).
Investigação e interesses: terraços fluviais e marinhos, ambientes do Quaternário, tectónica actica, geoarqueologia e geocronologia do Quaternário.
Curriculum Vitae (online):